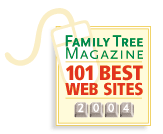 City Directories, arguably one of the most over-looked resources by genealogists, have been around since the 1700s. This web site will attempt to identify all printed, microfilmed, and online directories, and their repositories, for the United States. This site will answer these questions: does a directory exist for a locality? If it does, where can it be found?
Your help is needed! Is your library or archive a repository of any directories? Do you know of online transcriptions that aren't listed here? CLICK HERE to learn how you or your society can contribute.
Repositories completed:
Alabama Department of History

Brigham Young University

Clarksville-Montgomery County Public Library; TN

Colorado State Archives

Columbus-Lowndes Public Library; Columbus, MS

Excelsior Springs Historical Museum; Missouri

Family History Library

Flint Public Library; Michigan

Grand Rapids Public Library; Michigan

Idaho State Historical Society

Kansas State Historical Society

Kentucky Historical Society

Library of Congress

Logan Library; Utah

Lyon County Historical Archives; Kansas

Midwest Historical and Genealogical Society Library, Wichita, KS

Minnesota State University; Mankato

Monterey Family History Center; Seaside, CA

National Archives

Tennessee State Library and Archives

Texas State Library

University of Utah

Washington Memorial Library; Macon, GA

Wyoming State Archives
Click on the map below or select from the drop down list to begin your search.